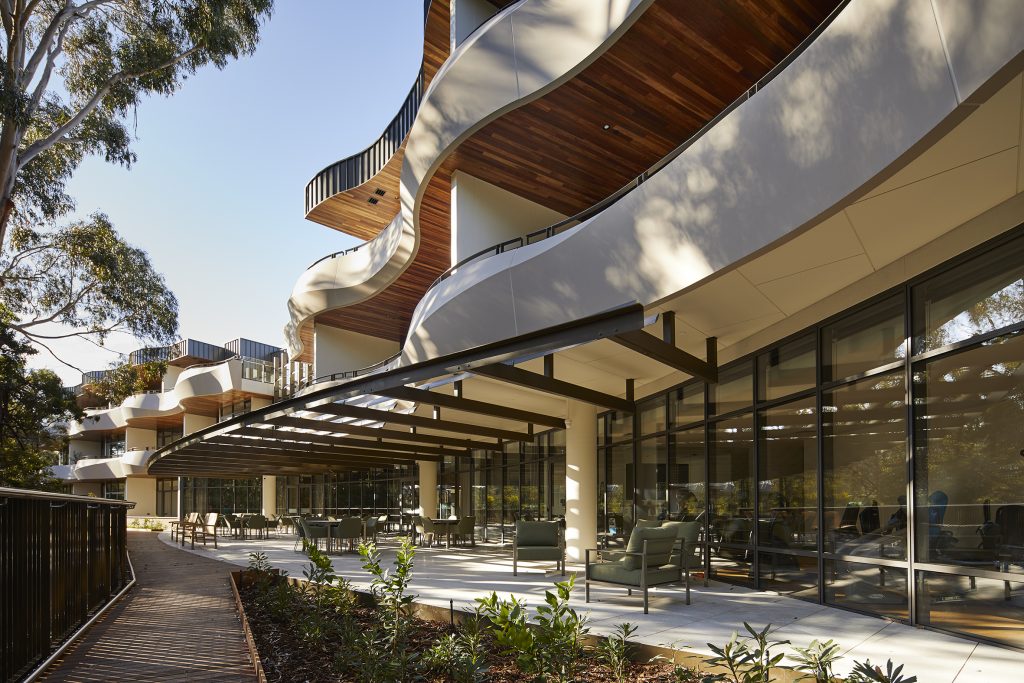 In Melbourne's east, architects have created an assisted-living development that reflects the area's natural beauty.
With the natural beauty of the Back Creek Reserve as the backdrop to the site, architect Mark Grigsby took his inspiration from this bushland setting when designing Morgan Glen Iris. Gentle organic shapes, abundant trees and the colours of nature all informed the design of this new assisted living development for retirees.
Grigsby is a director of Smith+Tracey Architects, a busy practice with extensive experience in the seniors living and aged care sector. With all their projects, their goal is to create environments that enhance the relationship between people and their surroundings.
The sculptural facade – which features moulded, undulating panels that reference the ripples of the nearby creek – allows the building to seamlessly integrate within the site. ''You're at a level where you're in the trees, and you can't see really any other buildings around you from all your main lifestyle areas. So you could be anywhere in the country, rather than a really urbanised location,'' Grigsby says of the Elizabeth Street address, which places the development only a stone's throw from the junction of Toorak and Camberwell roads in Melbourne's leafy east.
Thanks to the waterway, which residents can enjoy by strolling on the boardwalk that runs alongside it, and the many mature decades' experience in seniors living, Morgan Glen Iris straddles the line between retirement living and residential aged care. It provides assisted living, which offers support designed to meet each individual's specific needs. For some residents, it might simply be household chores; for others, more significant assistance – but it's all intended to help retirees maintain their independence.
Available on a long-term lease basis, the 62 apartments have been designed to meet the Livable Housing Australia gold standard. ''This means that the spaces within can be big enough so that you can move comfortably around, which is especially important if [you] may need some assistance,'' says Grigsby.
The apartments come with kitchenettes trees, there's both peacefulness and privacy. ''It's so green that residents don't actually need to close their blinds at night time, because no one can actually see back in,'' he says. ''You feel like you're part of nature.''
That feeling is enhanced by the materials the architects have chosen. ''We've used a lot of timber, which brings a warmth to the building,'' Grigsby explains.
Matte brass, green tones and wood grain also complement this. ''The interior has quite a modern art deco feel to it,'' he says, adding that this adds a richness and glamour to the spaces as well.
''It is elegance without being ostentatious. It is certainly very, very luxurious.''
Developed by BASScare, a community notfor-profit organisation with more than six equipped with high-end appliances, en suites and ''they've all got full-height windows and sliding doors that allow you to access your own private outdoor spaces''. Basement parking, storage cages and temperature controlled wine cellars are also standard.
Among other amenities, the rest of the building houses a fully stocked library, hair salon, gold class style cinema, billiards area and a gym, which has views over the creek. There's also a restaurant on site.
''It's just a very welcoming building to walk into,'' says Grigsby. ''I feel like the building already has a soul.''

People considering retirement community living should seek professional, independent financial and legal advice.
Article Published: The Age, 8/22/2021